POWERgrass hybridgrass is not simply a carpet to bury in the rootzone, POWERgrass is a complete system that integrates synthetic turf to the natural grass!
POWERgrass system is composed by a special designed synthetic turf surrounded by a mixture of ZOEsand and river sand. ZOEsand is a soil improver that enhance natural grass growth conditions. The grass roots grow in the rootzone, penetrate the synthetic turf backing, and anchor to the carpet.
A layer of fine gravel and a drainage pipe system have to be installed underneath the rootzone. This is necessary to remove the excess of water, improve air circulation, and allow to maintain proper humidity in the rootzone. The ratio of water/air is well balanced and easy to control with proper water management.
In most cases, a sport field is used up to 1000 playing hours during a season. If properly maintained, POWERgrass hybrid grass system always ensures that number of playing hours. Depending on the climate, you can play on the natural reinforced grass up to 1000 hours in Cool Continental, 1200 hours in Temperate Maritime and 1400 hours in Mediterranean climate. In extreme conditions POWERgrass system allows to play on its synthetic turf even without grass.
Two basic products are necessary to provide the "hardware" of POWERgrass
To install the system is necessary to purchase the sand, the gravel, the POWERgrass synthetic turf, and the ZOEsand soil conditioner.
The POWERgrass synthetic turf is specially designed to promote grass growth and reinforcement up to 20 years. It is composed by strong, resilient synthetic fibers which protrude over the surface and protect the natural grass crowns. The fibers are tufted and well bound to the breathable and soft backing. The backing allows grass roots penetration thanks to its internal porosity and tridimensional shape.
The ZOEsand soil conditioner is specially designed to blend with silica sand to provide:
a softer playing surface with a chock absorption effect resistant to compaction
a bigger amount of air content and water field capacity useful to manage heavy rainfalls and dry climates
an insulation effect which prevents the frost and the overheating of the rootzone
While the sand and the gravel are available locally, the POWERgrass synthetic turf and the ZOEsand soil conditioner are only produced by us.
The POWERgrass rolls are provided in 4 meters width and lengths up to 80 meters.
The synthetic fibers are available with heights from 35 to 80 mm and density from 35.000 to 96.000 per square meter. The use of different fiber shapes provide additional resilience and duration.
The ZOEsand is available in big bags of 1000 kg.
All the materials will be ready for shipment within 2 weeks, upon order confirmation.
Depending on the purpose, the sport, and the amount of playing hours, POWERgrass recommends to use:
PWG hybrid of 50 mm, with 48000 fibres/sqm of Diamond shape for private gardens
PWG hybrid of 55 mm, with 48000 fibres/sqm of Diamond shape for regular use in playgrounds and sod producers
PWG hybrid of 60 mm, with 63000 fibres/sqm of Double 4 shape for intensive use in European and American Football,
PWG hybrid of 65 mm, with 63000 fibres/sqm of Double 4 shape for intensive use in Rugby
Always playable surface, on natural grass reinforced or straight synthetic turf!
In those cases where is necessary to play without any limit, POWERgrass provides a carpet with a higher density of synthetic fibers which is playable with or without grass. Looking at the examples above we recommend:
PWG hybrid of 55 mm, with 88200 fibres/sqm of Diamond shape for extreme use in playgrounds
PWG hybrid of 60 mm, with 88200 fibres/sqm of Double 4 shape for extreme use in European and American Football
PWG hybrid of 65 mm, with 88200 fibres/sqm of Double 4 shape for extreme use in Rugby
Seeds, fertilizers and control products is the "software" of POWERgrass
POWERgrass system promotes quick grass establishment and fast grass recovery after each playing activity, therefore, an intensive nutrition program is required.
Skilled people may understand that ryegrass (lolium perenne) is the best suitable species for this purpose. The roots of ryegrass will soon anchor to the synthetic turf backing therefore kentucky bluegrass (poa pratensis) is less important to promote stability. Still, kentucky bluegrass can be used up to 30% in a seed mixture by weight.
Cool season grasses suffer over 32°C (90°F), therefore in hot climates some focus on warm season grasses like Bermudagrass or Seashore Paspalum.
Maintenance equipment for POWERgrass
Most of the maintenance equipment that are often used for natural grass and synthetic turf care are suitable also for POWERgrass if they have not any harmfor the synthetic fibers and the backing. Avoid heavy scarifiers and deep hollow coring. Contact us and/or our partners to make sure you get a clear understanding about which machine is suitable. Always test and register carefully every equipment to avoid harming a lifetime investment.
Make always sure to control thatch build up without harming the synthetic fibers. A sorrel roller with pins, a scarifier with springs instead of knives or groomer may provide that service without difficulties.
The marking lines of the pitch are provided by special color, also used for natural grass.
Services and consultancy
Installation is easy but it takes specialized worker to do the job. Our partners are skilled companies capable to install the pitch in brief time taking care of all the details.
Consultancy is provided free of charge to our customers until they get sufficient experience to POWERgrass system.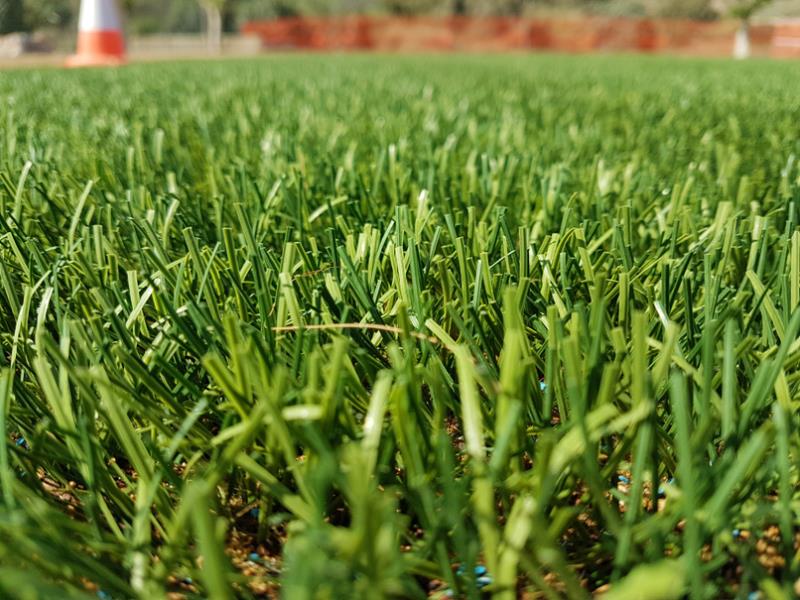 POWERgrass seeded in Lampedusa
POWERgrass seeded in Lampedusa upon installation with ZOEsand, just before the natural grass grows.
Pure Dynasty seeded Seashore Paspalum
Pure Dynasty seeded Seashore Paspalum, are the blu treated seeds.
ZOEsand soil conditioner
ZOEsand is essential to promote better growth.
Preparation of Background
Mixing of materials and preparation of the background.
Preparation of POWERgrass
Brushing and raking to fill the synthetic turf.
Products - Services
The tractor with the blade under laser control is perfect for leveling the field with extreme speed and precision.